Essential Products and Services
Whether you're customizing a product on VisualBadge, designing a fully custom badge for your department, or outfitting your uniform, we have what you are looking for.
Discover Smith & Warren
Smith & Warren produces the finest quality Police Badges, Fire Badges, EMS Badges, Sheriff Badges, and Military Badges. In addition, Smith & Warren also creates the best quality uniform insignia, commendation bars, medals, and leather accessories. Trust Smith & Warren for the best quality badges, insignia, and accessories, and don't forget that All Smith & Warren badges are backed by our exclusive Full Lifetime Warranty. No other badge is covered by such an extensive guarantee.
Visit our Learning Center
Do you have questions about ordering, services, or badges?
Find the answers to all of your badge-related questions through the resources located in our Learning Center.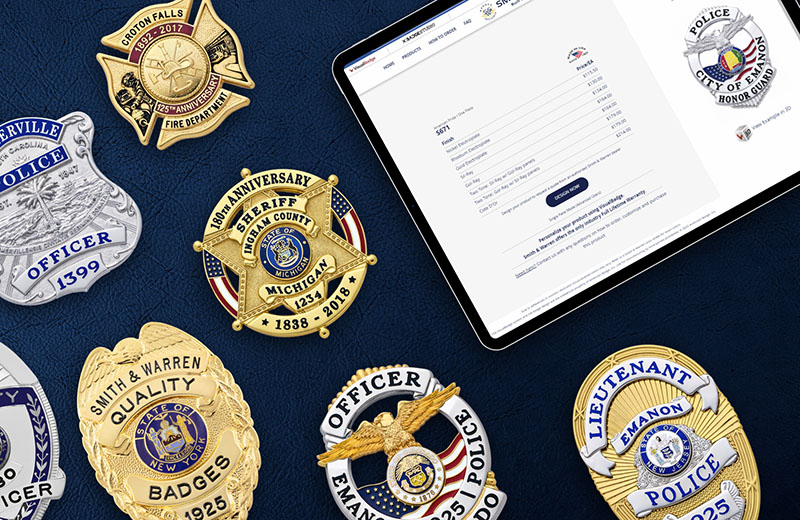 Why Choose Smith & Warren
USA MADE
We manufacture each badge in our highly efficient 27,000 square foot facility in White Plains, New York. USA manufacturing is the surest way to maintain the quality of our product and service.
FULL WARRANTY
Every Smith & Warren badge is built to last a lifetime. Smith & Warren is the only manufacturer in the industry to guarantee your badge with a Full Lifetime Warranty.
OUR MISSION
To provide a positive buying experience for our customers and to produce the highest quality badges and insignia for Departments and Agencies across the world.