How to create an awards program for your department.
All department recognition programs are unique, but most have several awards in common.
Published On: 07/13/2023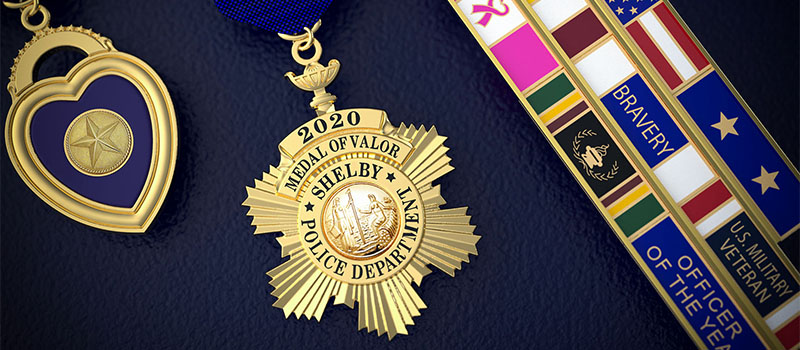 Creating a medals and awards program for your department can be manageable. The benefit of custom medals and awards is the ability to start small and expand as needed.
All department recognition programs are unique, but most have several awards in common. This article will outline many typical awards utilized by most departments. By starting with these basics, you can establish your program's foundation and add custom medals and award bars as needed.
Medal of Honor: Traditionally, the highest honor awarded to a department member. The Medal of Honor is awarded to personnel who knowingly risk imminent personal harm and distinguish themselves by performing extreme acts of bravery and heroism above and beyond the call of duty. In some departments, the Medal of Honor is reserved for posthumous award, with the Medal of Valor being the highest active duty honor.

Medal of Valor: Similar to the Medal of Honor, the Medal of Valor is awarded to personnel who display extreme courage in the face of imminent personal harm above and beyond the call of duty.

Medal of Merit: Awarded to personnel who have displayed brave actions above and beyond the call of duty to preserve public safety.

Distinguished Service Medal:  Awarded to individuals who have demonstrated exceptional dedication and outstanding performance in their duties over an extended period. It acknowledges sustained excellence and significant contributions to the department and the community.

Lifesaving Medal: Recognizes individuals who have risked their lives to save others. It honors acts of quick thinking, courage, and skill that result in saving or significantly improving another person's life.

Purple Heart: Awarded to department members injured or wounded in the line of duty.

Officer/Firefighter of the Year: Awarded to an individual who has displayed distinguished and outstanding service to their department and community.

Recognition & Achievement: Many departments include an award bar with recognition medals. The service award bar can be worn on the duty uniform while reserving the Medal for the class A uniform.
Years of Service: Service award bars are a meaningful way to acknowledge the loyalty and dedication of individuals who have served the department for extended periods. These bars can be customized to represent milestones such as five, ten, fifteen, twenty, or more years of service.
Leadership Excellence: Recognizes individuals who have shown exceptional leadership skills and have made significant contributions to team building, mentorship, and the development of fellow members.
Training and Education: Honors individuals who have invested time and effort in continuous training and education to enhance their skills and knowledge in their respective fields. It encourages a culture of professional development within the department.
Community Service: Recognizes individuals who actively engage in community outreach, volunteer work, and initiatives, promoting positive relations between the department and the community it serves.
Professional Achievement: Acknowledges individuals who have achieved significant milestones or received notable professional recognition in their field of expertise, such as advanced certifications, specialized training, or awards from professional associations.
Creating an awards program for your public safety department allows you to honor and recognize exceptional performance and dedication. You can establish a comprehensive recognition program by incorporating popular medals and service award bars. You can add additional medals and service award bars to your program as your needs evolve.
Visit www.smithwarren.com/service-award-program for inspiration and guidance. Numerous Medals and hundreds of Service Award Bars are available that you can personalize online. 
If you need personal advice, our team has worked with countless departments to create comprehensive award programs. We will happily assist you in creating a Medals and award program for your organization.
With a well-designed awards program in place, you can motivate and inspire your department's members to strive for excellence and foster a positive and engaged workforce.