How do I create a custom center seal for my badge?
A highly effective and low-cost way to customize a public safety badge.
Published On: 04/21/2023
Does your town, department, or organization have a distinctive seal or logo? Have you wondered how it could be incorporated into a badge? If so, is it expensive? Is it a complicated process? A custom center seal is a low-cost, highly effective way to add another level of customization to your badges. The recommended method is to convert your seal/logo into a custom center seal for your badge. Continue reading to learn more about the process.
Let's start by defining a center seal. The center seal is the small round emblem typically located in the center of the badge. These emblems are made of metal and frequently have color (enamel) added.   
If using VisualBadge (our online design program) to personalize your badge, you will find a large selection of stock center seal designs to choose from. Stock center seal designs include state seals and industry seals covering fire, EMS, law enforcement, and security professions.
What is a custom center seal?
A custom center seal is a center seal that is designed specifically for your organization. A custom center seal will most commonly be designed based on a city/town seal, department patch, or company logo.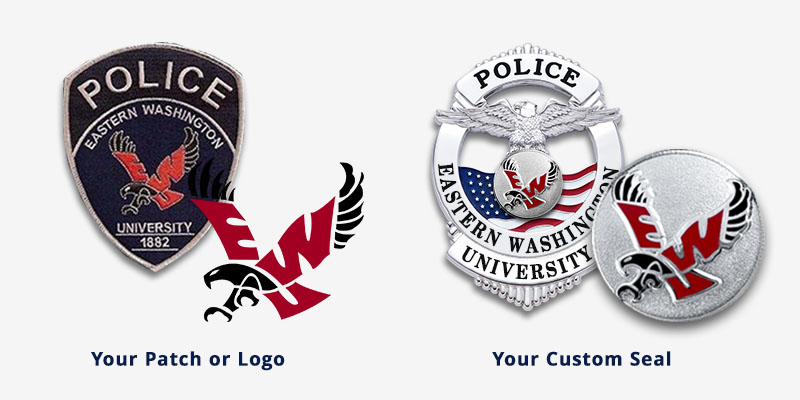 How do I create a custom center seal for my department badges?
Step 1:  Design and personalize your badge. Use an online badge design program to select a design and customize it. We provide a program called Visualbadge to help you through the design process. When you get to the part where you must select a center seal, select the "Design Your Custom Seal" logo.  
---
Step 2: Request a Quote - At the end of the process, submit your quote request.
---
Step 3:  A Smith & Warren team member will review the quote request and assign it to an authorized Smith & Warren dealer.
---
Step 4: Within one business day, you will receive your official quote, including your custom center seal.  
---
Step 5: Place your order and submit your logo/graphic to be converted.
---
Step 6: Smith & Warren will provide a full-color artwork proof of the seal. The proof will be detailed and will show exactly what areas are metal and what areas are enamel (colored). The Pantone color chart is used for selecting colors. We can match them for you, or you can provide us with the color codes. Only after your approval will the seal be made. If minor revisions are needed, they are included in the original quote.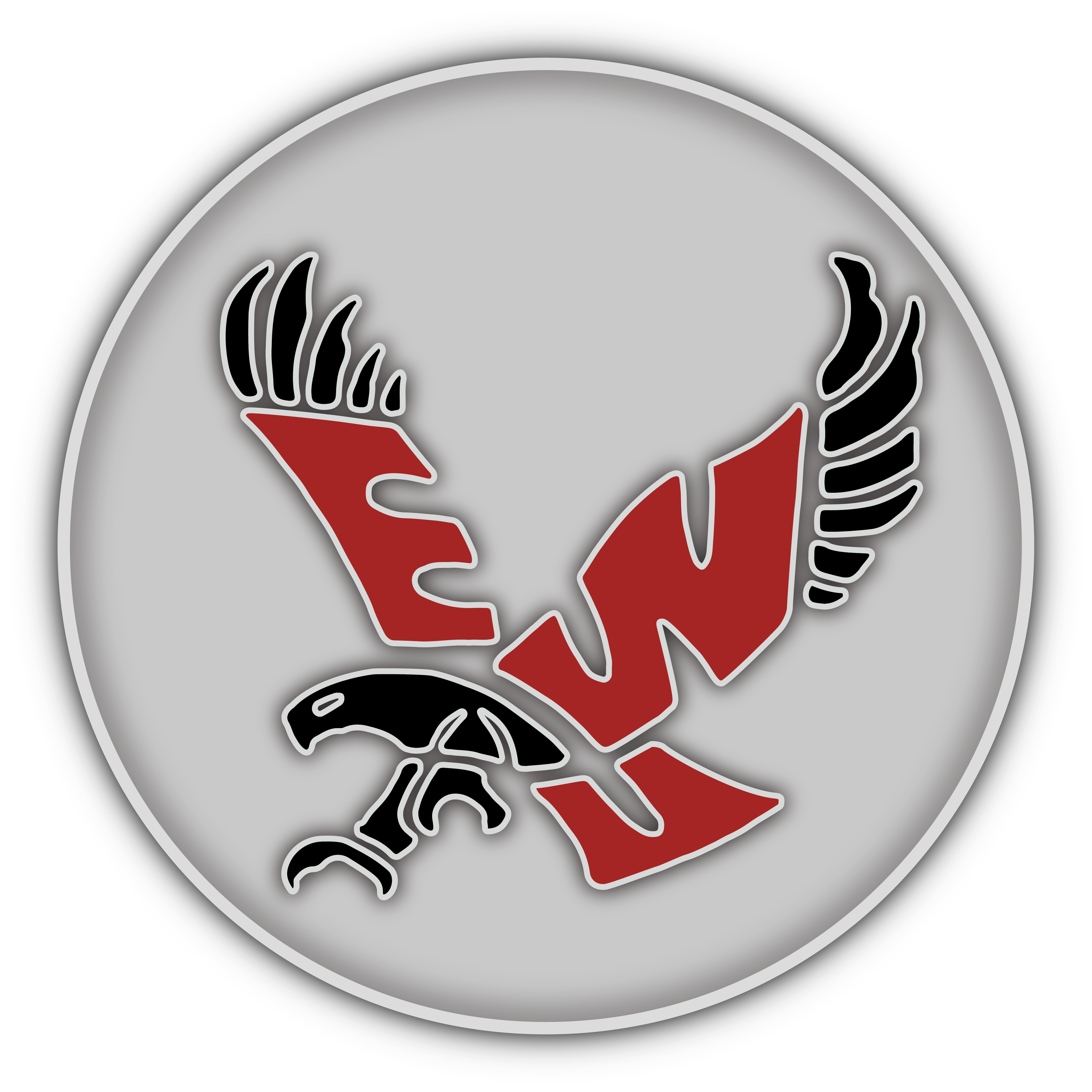 ---
Step 7:  Take delivery of your new badges. The initial order does require a die (mold) to be created, so we recommend allowing 6 to 8 weeks for delivery. 
---
Step 8:  Reorder badges when needed. Reorders of badges using your custom center seal have no set-up cost or any minimum order quantity. Your seal is kept in stock to fill your future orders. Reorders of badges using your custom center seal are delivered within 4 to 6 weeks.
How much does a custom center seal cost?
Creating a custom center seal is free when accompanying a 25+ piece initial badge order. A one-time set-up fee applies for orders less than 25 badges. Below is the set-up cost breakdown based on the number of badges on the initial order.

25+ Badges: FREE
15 to 24 Badges: $250.00
10 to 14 Badges: $300.00
5 to 9 Badges: $350.00
1 to 4 Badges: $500.00
What about reorders? Will I need to pay to set up the seal again?
The short answer is "NO." The die/mold is made of steel and can be used forever. We also keep some inventory on hand to fill your small reorders. If more seals are needed, we pull out the die and stamp out more parts. 
How much detail can you get in my custom seal?
Our design team understands the importance of logo integrity and rarely runs into a logo they cannot convert. The method used most often is called "die struck + enamel." Using this method, your logo is depicted as a combination of metal and enamel. A thin metal line separates each color of enamel. The purpose of the metal line is to keep the enamel colors from mixing. Some small details or 3-dimensional areas of the logo are converted to metal. For very complex logos with features that cannot be depicted using traditional manufacturing methods, we can utilize screen printing or four-color printing processes.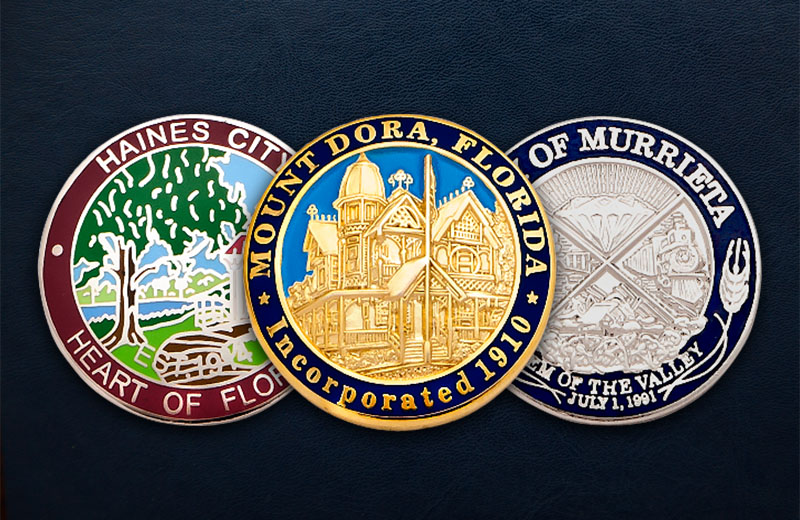 Creating a custom center seal is a highly effective and low-cost way to customize your organization's badges. Your organization probably already has a logo that would make a great custom center seal. If so, discuss this option with your colleagues, and feel free to contact us with any questions. Our team is always available to answer any questions and will gladly help you create the perfect custom seal for your badges.
Browse the custom seal gallery to see the types of seals other departments have created.