How much do custom badges cost?
Exploring the factors that affect the cost of a custom badge.
Published On: 05/04/2023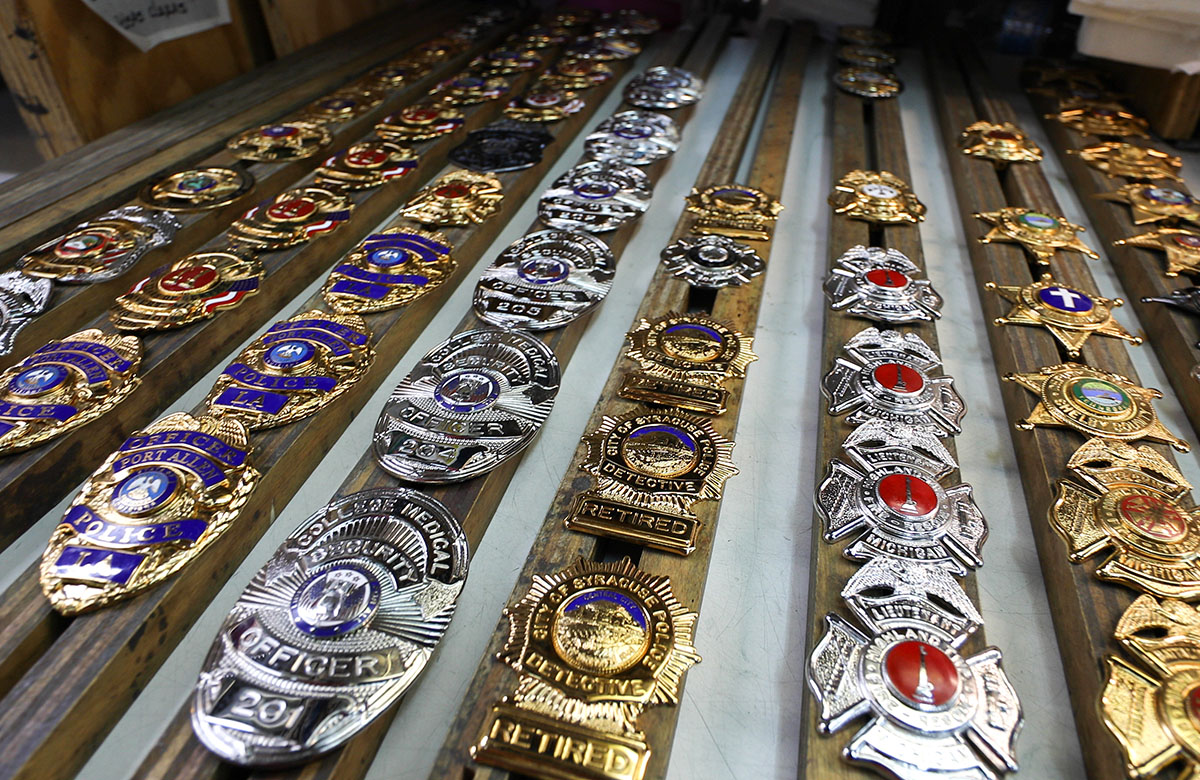 How much do custom badges cost?
The price of a high-quality USA-made custom metal public safety badge will range from as low as $75.00 to as high as $250.00. This is a wide price range, so below, we will look at some factors contributing to the final cost of a custom badge.
What factors affect the cost of a custom badge?
Badges come in a variety of shapes and sizes. In general, a larger badge will cost more than a smaller one. Some shapes are more intricate than others and, therefore, can also impact the price.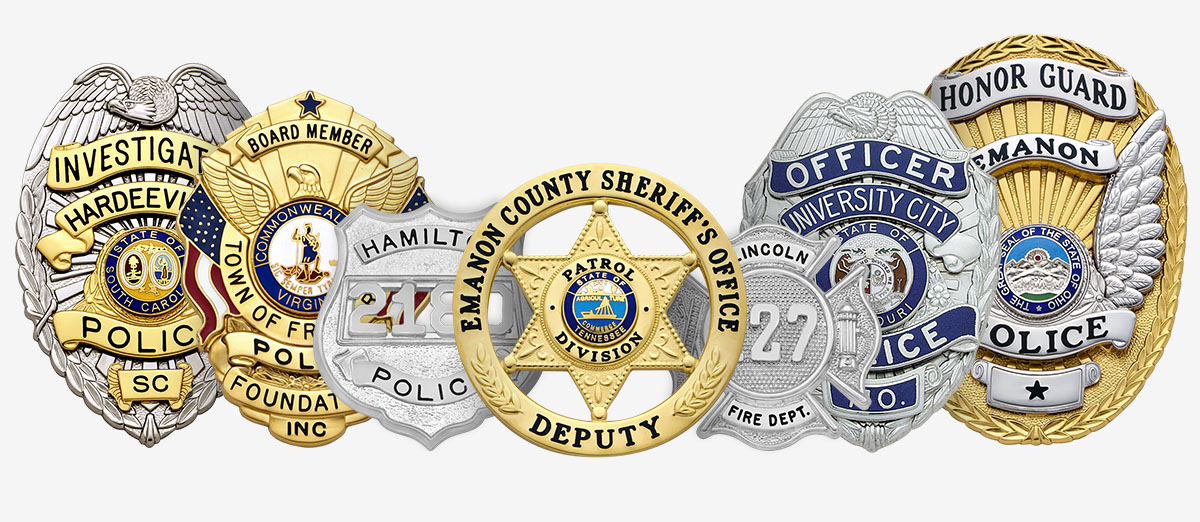 A custom badge can be formed from a single part (one-piece construction) or multiple parts soldered together (layered construction). Badges from multiple parts soldered together will cost more than those made from a single-formed part. 
3) Finishes and Materials:
Badges are typically gold, silver, or a combination of both, known as two-tone. The badge finish is the cost foundation of every badge.  If designing a badge with VisualBadge, the unit price for each finish is clearly displayed for each badge model.  Click here for more information about the different finishes available.
Enamel is a method of coloring the text on a metal badge. We offer two types, soft and hard enamel. Soft enamel is less expensive than hard enamel.  For more information about enamel types click here.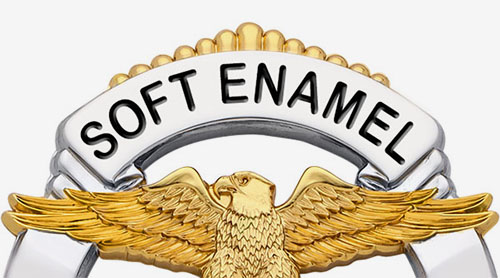 Soft Enamel: The indentations of the engraved letters can be felt after the enamel is applied.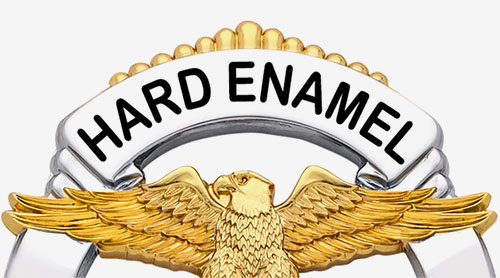 Hard Enamel: The letters are smooth to the touch and level with the surrounding metal
5) Type of center seal (multi-color, one-color rim, plain):
Center seals are added to most badges.  The cost generally ranges from $0.00 to $5.00 depending on the number of enamel colors.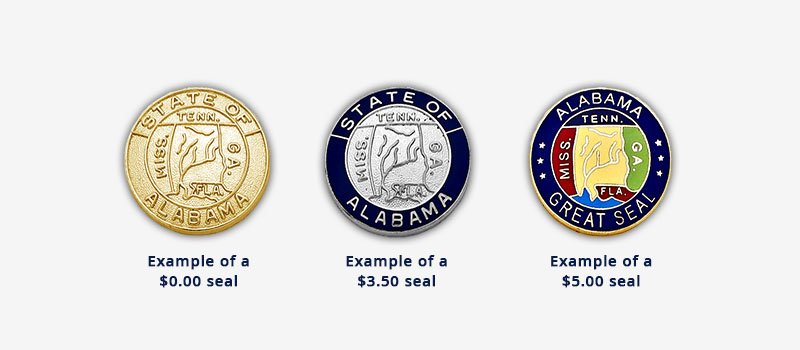 6) Level of customization:
Over 1,500 badge styles on VisualBadge can be personalized with the above-mentioned options. More advanced levels of customization are available such as a custom center seal or a concept-designed badge style. 
Click Here to learn more about creating a custom center seal. 
Click Here to learn more about BadgeStudio - our concept design service.
Quantity discounts are available starting at 16+ badges. There is a quantity discount of 5% for orders of 16+ badges, with a maximum quantity discount of 20% for orders of 100+ badges of the same style.
8) Place of manufacture (USA vs. import):
All Smith & Warren badges are manufactured entirely in the United States. Like most products, badges imported from other countries, such as China, are generally less expensive, but several factors must be considered.
Quality: Imported badges are typically made to different quality standards than USA-made public safety badges. While there may be cost savings up front, the ongoing need to replace damaged badges typically negates these savings over time.
Lead Time: A personalized USA-made custom badge is typically produced and shipped within 4-6 weeks. 
Minimum Order Requirements: USA manufacturers are set up to manufacture large and small quantity orders.   While an overseas manufacturer may be able to offer lower prices on an initial bulk purchase, they likely will not be able to service ongoing needs for small and individual purchases.
Warranty: The badge is the most recognizable and meaningful part of any public safety professional's uniform. A well-crafted custom badge should last years, if not decades, in the field. Custom badges with a comprehensive warranty are typically more expensive than those without but will save you a lot of money over the long term.
---
Everyone's needs, preferences, and budgets are different. Many professionals wearing the badge on a uniform daily or in harsh climates, such as coastal communities, may opt for more premium options that provide increased durability and longevity. Those who infrequently wear a uniform or whose badge will reside in a leather credential case may find that standard finishes or options will suit their situation.
Online badge builders, like VisualBadge, are an excellent way to design and preview available styles and options. In the case of VisualBadge, every model and option is shown with pricing. This transparent approach lets you create your custom badge and see how your choices affect the purchase price.
Regardless of your chosen finishes and options, every quality-crafted custom badge should function properly and look beautiful for many years.