Is BadgeStudio right for my department's badge project?
A summary of Smith & Warren's premier concept badge design service.
Published On: 05/02/2023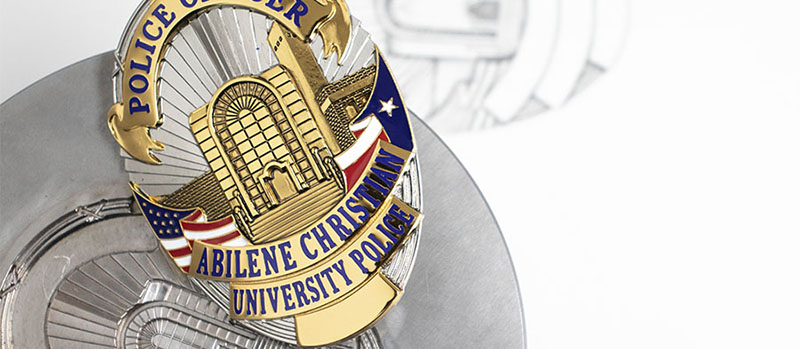 The badge is an important part of any public safety professional's uniform, perhaps the most important part. Creating a custom badge for your police or fire department can be an exciting opportunity to tell your department's story, represent your ideals, and exemplify your core values.
As discussed in our article "How do I design a custom badge?" All badges are custom. The level of customization is what varies. For most departments, a personalized badge, created from available badge models and options, is an appropriate and cost-effective option. Online badge design software like VisualBadge has made personalizing a badge very easy. 
Another option is to create a concept-designed full custom badge. BadgeStudio is an excellent way for departments to incorporate unique design elements that aren't available with existing models and options, like historic buildings, local landmarks, meaningful images, and symbols. If your department wants to create a genuinely original badge and outfit 50 or more members, creating a concept-designed badge with a service like BadgeStudio might be a good option for you.
 
BadgeStudio is Smith & Warren's professional concept badge design service. BadgeStudio utilizes a consultative approach and a series of incremental design steps to turn ideas into unique custom badges.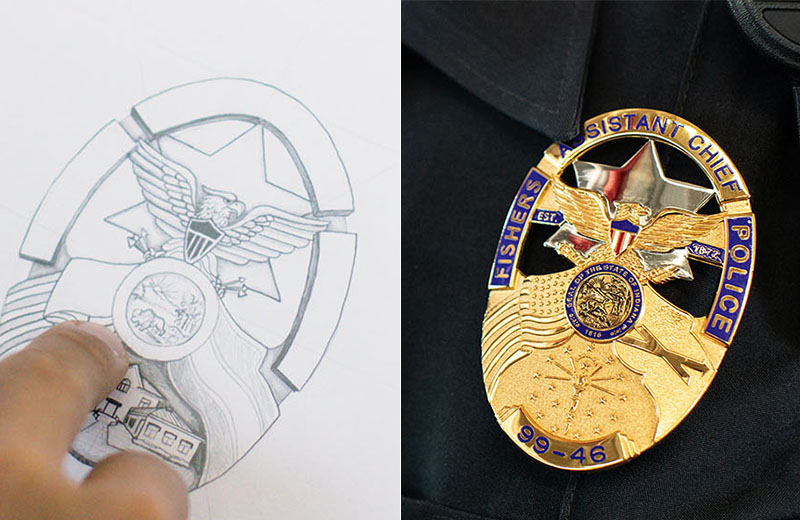 How does BadgeStudio work?
Consultation
The BadgeStudio process begins with a complimentary consultation with our design team. This consultation allows us to listen and learn about your department and history. What styles of badges do you like or dislike? What shapes do you prefer? What critical elements need to be a part of your badge design? Should your badge include a building, landscape, flags, or other vital elements? This step lets us learn about you, your department, and your community. The consultation is the foundation of creating a design that properly reflects your department. Click here to learn about the consultation process.
Quote
Once the consultation is complete, a Smith & Warren team member will provide you with a detailed design and development cost quote.
Concept Sketch
Most BadgeStudio projects begin by putting pencil to paper. Using the information gathered from the consultation, a design team member will begin crafting a hand-drawn concept sketch. While this step is not always required, it sets the foundation for a complex design. It is an opportunity to visualize and approve the concept before moving forward.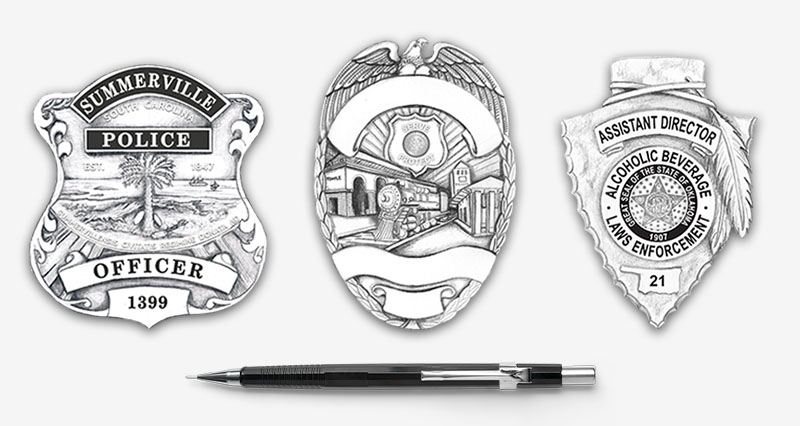 Color Illustration
Once the concept sketch is approved, the design comes to life with full-color graphic art. At this stage of development, you can make revisions and fine-tune all the design details until it is perfect.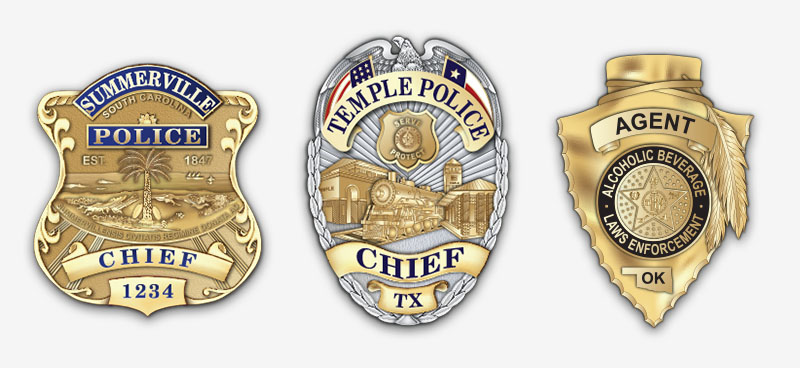 3D Graphic Render
Your concept-designed badge is ready for the final design phase, 3D rendering. The two-dimensional color design becomes a 3D graphic model so you can see all the fine details, depth, and sculpted elements that will be reproduced in metal to become your new badge. 
Rotate and zoom the interactive 3D model.
Steel Die Creation
The digital becomes physical. The steel die is the foundation of every badge. Your new concept design is precisely carved into a steel die, which will be the starting point for producing your new badges.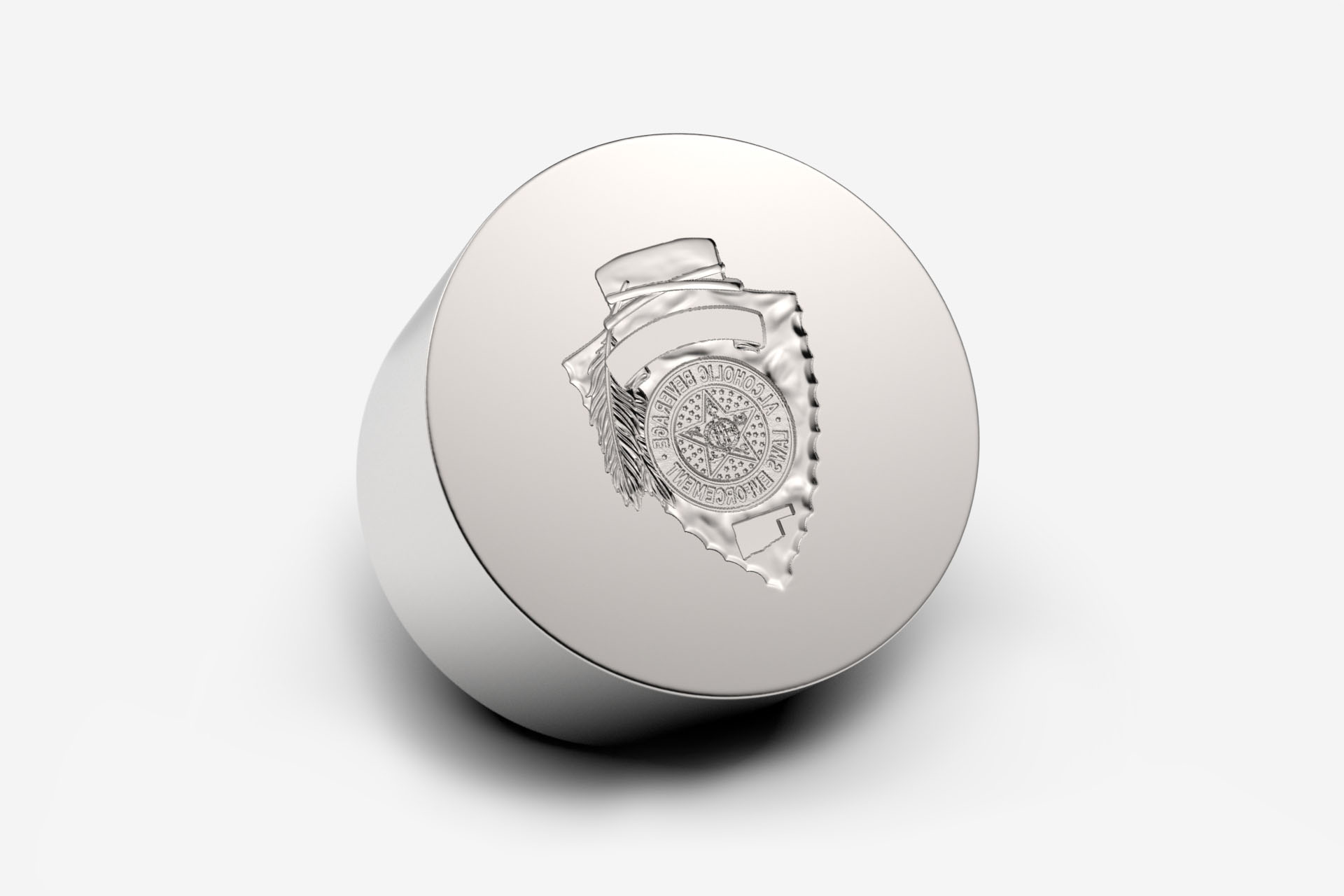 What do I get for my investment?
In addition to the professional designs created by our creative team, BadgeStudio includes the following valuable assets for your exclusive use:
Design Ownership (including vector artwork files)

You own the design and the rights to use it for such popular items as business cards, posters, stamps, wood carvings, billboards, vehicle graphics, and more. The badge is a part of your department brand, and we welcome you to use the files to promote it throughout your organization and community. The vector art file is particularly useful because the image can be sized as large as you need it to be without any loss of quality.

Steel Die/mold Ownership

When you develop your new concept-designed badge with BadgeStudio, the steel die created to produce your new badges is exclusively yours.

Pre-Production Samples

Included in your BadgeStudio development are two finished badges.   

Professional Badge Photography

Every Concept designed badge created with BadgeStudio is professionally photographed by our in-house creative team.  These hi-resolution photographs are shared with you at the completion of the project to use however you'd like.

Specifications

We will provide detailed written specifications so you understand your badge inside and out. You own the badge, and we want to ensure you have all the details for future reference.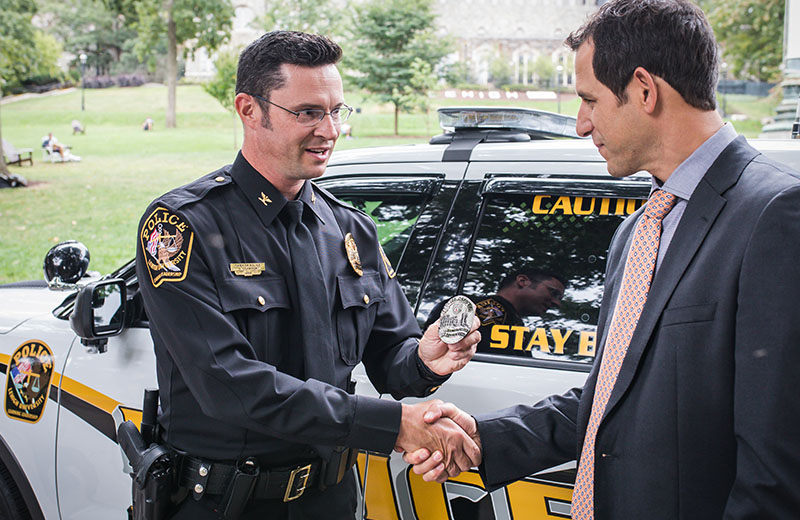 If BadgeStudio sounds like the right solution for your department, contact us. We are excited to talk about your project with you. We will contact you within one business day to answer any questions you have and schedule a consultation with a member of our design team. You can also click here to visit our BadgeStudio gallery to get inspired.