How long does it take to make a custom badge?
Published On: 05/11/2023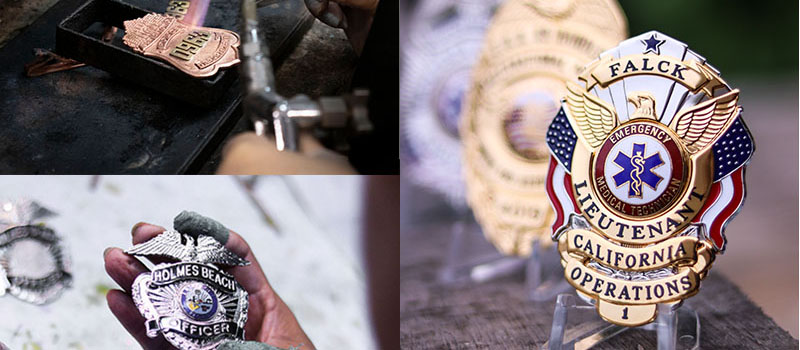 How long does it take to make a custom badge?
Ordering a custom badge made specifically for you or your department can be exciting, but how long do you have to wait to receive your brand-new badge? In this article, we will discuss one of the most common questions we're asked, "How long will it take to make my custom badge?"
A custom badge will go through numerous manufacturing steps and processes on its journey from raw materials to a finished product. Many factors can affect the production time, but a high-quality USA-made custom badge should generally ship within 30 – 45 days from the order date.
What affects production time?
Personalized Custom Badges
When you order a personalized custom badge from one of the many template designs, you can choose from various options such as lettering, font, enamel type, center seals, attachments, and more. Some of these options do affect the production time. However, a reliable badge manufacturer should still be able to complete production and ship your personalized badge within the 30 – 45 day timeframe.
Many customers choose to add another level of personalization to their department badges with a custom center seal. Center seals are applied at the very end of production. Even if you order badges with a brand-new custom center seal, the seal can be produced while the badges are in production and meet up at the end. In some cases, creating a custom center seal can delay production by a week or so, but the badges should still ship within the 30-45 day timeframe.
A concept-designed badge is another category of custom badge. Creating a concept-designed badge is a much more extensive process that involves design and development work before producing the badges themselves. Check out our article "Is BadgeStudio Right for my Department?" for more information about creating a concept-designed badge with BadgeStudio.
 
The badge is one of, if not the most important, identifying component of any public safety uniform. While a durable and high-quality custom badge is critical to perform under the rigors of public safety work, receiving your custom badge order in a reliable and timely fashion is also vital.
If you have any questions about creating a custom badge for you or your department, contact our team anytime.