How do I design a custom badge?
Your guide to designing a custom badge for your fire or police department.
Published On: 04/05/2023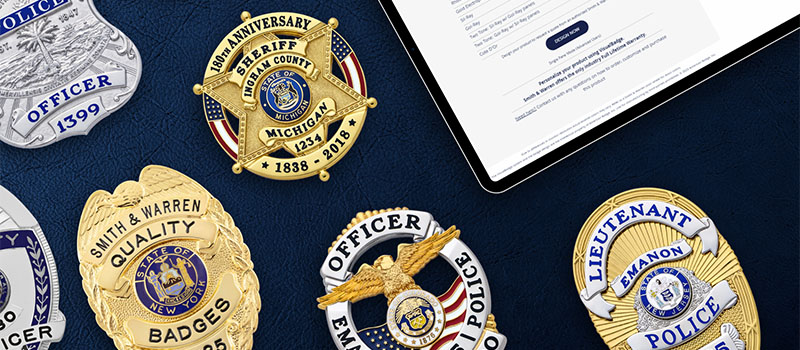 You want to design a custom badge for yourself or have been tasked with creating a new custom badge for your entire police department or fire department. You might have a badge already. You wear one on your uniform, but other than that, you don't know anything about designing a custom badge. Where do you even start? What is involved in creating a custom police badge or custom firefighter badge? How much does it cost? What are the options?   
There is much to consider when designing a custom badge. This article will guide you through the various options and other considerations so you can start creating confidently for your agency and department.
What are custom metal badges?
The term "custom badge" can mean different things to different people. At the most fundamental level, all badges are custom. The degree of customization is what varies.
Custom badges fall into two categories
Personalized
Concept Design/Full Custom.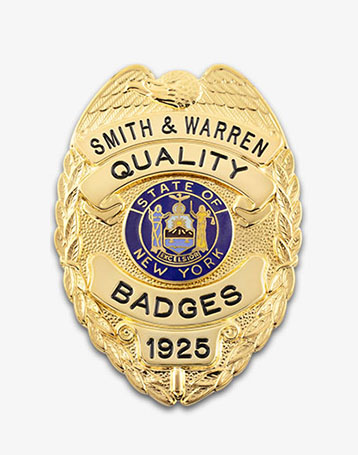 Example of a personalized badge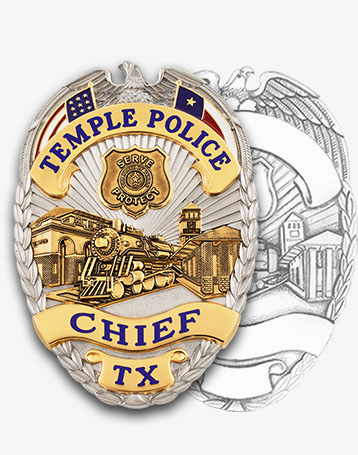 Example of a concept/full custom badge
Personalized badges are popular because:
No minimum order quantity
Easy to design online
No Set-up Costs
Quick Delivery (Typical delivery of a personalized custom badge is 4 to 6 weeks)
When designing a Smith & Warren custom badge, you will start by choosing a style from a large selection of existing designs. If you use VisualBadge, you will see each design as a finished badge. These are just examples; you can choose all your options once you start designing. When you find a badge style you like, click "Design Now." Then follow the steps through the design process. Some of the options you will encounter are:
Metal Finish: Choose from gold, silver, and two-tone finish options.  Click here to learn more about metal finish options.
Text/Lettering: Input the lettering/text that you would like to see on the badge. You can also choose the font and color of the text. Click here to learn more about text/lettering.
Enamel Type: Enamel is a method of coloring the text on a metal badge. We offer two types, soft and hard enamel. With Soft enamel, the letter appears engraved or indented. Hard enamel is a glass enamel that appears flush with the surface when completed. Click here to watch our video about the two enamel types.
Center Seal: Choose from a large selection of stock seal designs. If your department/organization has a logo, consider our custom seal program. Click here to learn more about custom center seals
Attachment: This refers to how you will attach the badge to your shirt, hat, belt, ID case, or wallet. Click here to learn more about attachment options.
Shape: A badge can be flat or curved. Click here to learn more about shape options.
Accessories: After completing your design, you should consider accessories. Do you need an ID case, wallet, belt clip holder, neck chain holder, etc.? It is a good idea to buy your accessories along with your badge so that they are compatible with each other. Buying them together will ensure that the accessories are cut to fit the badge. 
Concept Design/Full Custom:
Are you considering something completely unique and original? If so, a concept design/full custom badge may be an option. With this option, instead of starting with a template, you would work with a professional design team to develop a totally original badge. At Smith & Warren, we utilize a process known as "BadgeStudio" (click here to learn more about it). Going this route allows you to develop something completely original and tailored to your organization. A professional design team will work with your organization to develop a concept and then take it through to completion. Popular features to include in a concept design/full custom badge are city skylines, historic buildings, landmarks, core values, and other meaningful symbols to your organization.   
The process of developing a concept-designed badge is involved, but if you partner with a good team, it can be made easy and very rewarding. The projects typically require between 3 and 6 months to complete. The cost of a concept designed/fully custom badge is comparable to a personalized badge.  The only additional cost will be for the design and product development services. Concept designed/fully custom badges are appropriate for organizations outfitting 50 or more people with new badges.  
Does your department have a unique and specific shape in mind? Do you want to showcase notable landmarks or imagery from your community that are unavailable with existing models? In that case, a concept-designed badge might be the best choice.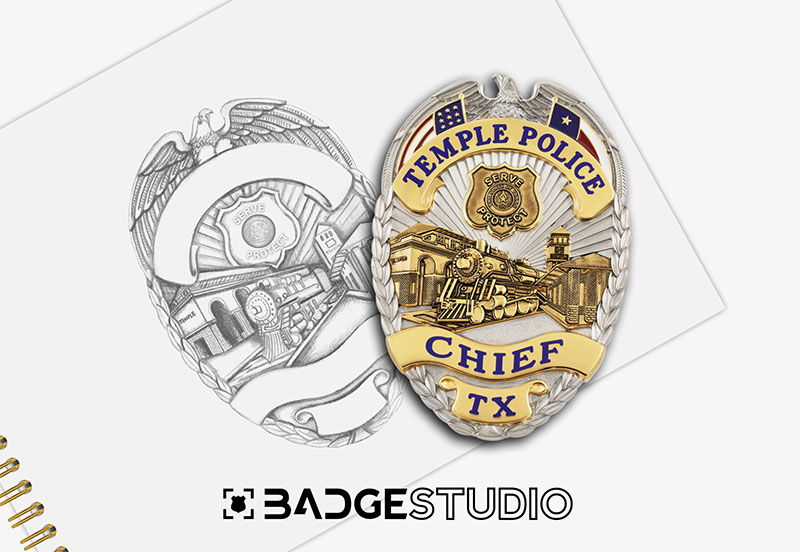 How to Design a Personalized Badge:
If you are designing a personalized badge, visit our online badge builder, "Visualbadge." The program features over 1,500 template designs and a vast number of options. Below is a brief overview of what you will see and experience.
Choose your badge style: Find the perfect model for you or your department. VisualBadge features high-quality photographs of each badge style, complete with measurements for clarity if you need to match your current style.
Customize options: Choose your desired finish, specific lettering, center seal, and desired attachment, such as a pin for uniform wear, wallet clip, screw back for hat application, and more. Each option is displayed on-screen to guarantee accuracy.
Preview your design: Once your design is complete, you can preview the finished product and verify that all options and details are correct.
Request a quote and order from a Smith & Warren dealer: Now that you've designed your badge, add your design to the quote cart and request a quote. Our team will review the information and assign your request to one of our authorized dealers. Within one business day, the appointed Smith & Warren dealer will contact you with final pricing, including shipping cost, any applicable quantity discounts, and assist you in placing your order.
Production: When your order is sent to production by the dealer, your badge begins to take shape. The details of your design are carefully reviewed, and the order is sent to the factory for production. Your new badge will be custom-made to your specifications.
Receive your new badges: Once Smith & Warren receives the order, your custom-made badges will ship straight to your door within about 30-45 days. Our expert team carefully inspects every badge for accuracy and quality.
What happens when I request a quote?
When you click "Request a Quote," a Smith & Warren team member will review the design you created.  
We will assign the request to one of our authorized dealers. If you specify a preferred dealer, we will assign the quote request to the dealer of your choice.
The assigned dealer will contact you within one business day with final pricing, including shipping and quantity discounts if applicable. They will then assist you with placing your order. If you don't hear back from the assigned dealer, or if you prefer to order from another dealer, please get in touch with our team. We will assign your quote request to the dealer of your choice.
Why should I request a quote?
The request-a-quote feature streamlines the ordering process by delivering accurate information to our dealers. It gives them the information necessary to order precisely what you need.
 
Will I end up on a mailing list?
The short answer. NO. If you want to receive emails about Smith & Warren products, you can opt-in to our mailing list. Otherwise, our team at Smith & Warren and our authorized dealers will only communicate with you about your design to help you place your order.
Concept Design/Full Custom:
Start by reading more about the BadgeStudio process. Click Here and visit our gallery of concept/full custom badge designs to get inspired.
Think about what you want to incorporate into your badge, but don't get overwhelmed. A good professional design team will help you think through the design process and develop a great concept. You do not need to be an artist to create an incredible custom badge design. You need to work with a great team of designers who get to know your organization and can guide you through the design process.
Smith & Warren is proud to serve public safety professionals throughout the world. Wether you work in Law Enforcement, Fire & Ems or Private Security, we're here to help and want you to be happy with your Smith & Warren products.
Please reach out to us if you have any questions. Our entire team is happy to help you navigate product options and help you find the perfect custom badge option for you.