Can I rush my badge order from Smith & Warren?
You may find yourself in need of badges quickly. In this article, we explain how our rush program works.
Published On: 08/17/2023
When events or occasions arise unexpectedly, you may find yourself in need of badges quickly.  At Smith & Warren, we understand the need for expedited service and have a "Rush Program" to service it.
In this article, we answer your most pressing questions about rush orders. You will learn about the process, costs, and time frames involved, ensuring a seamless and informed decision-making experience.
What are your standard badge manufacturing times vs. rush?
Rush service is 5 to 15 business days and is guaranteed.  Standard production is 20 to 25 business days.   You can learn more about how long a custom badge takes to make in our article.
How fast can I get a badge if ordered under the "Rush Program"?
We offer three rush service options: 5, 10, and 15 business-day manufacturing.  
The first day of production is the day after the order is submitted, and the last day is the day that it ships.  For example, if your order for a 5 business day rush was submitted on Monday, then the first full day of manufacturing is Tuesday, and the order would ship the following Monday.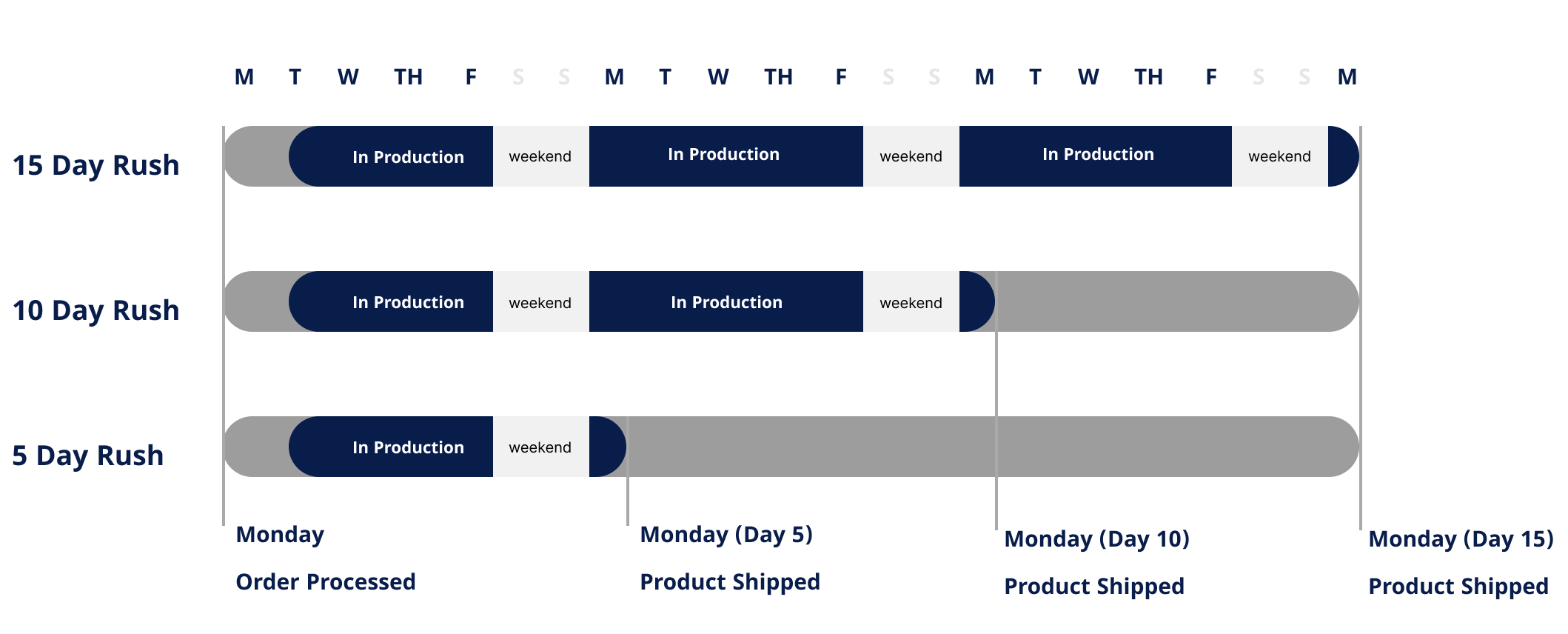 How much does rush service cost?
The cost for rush service can range depending on which service option you choose.
5 Business Days - $120.00 to $300.00  per badge
10 Business Days - $70 to $180.00  per badge
15 Business Days - $50.00 to $120.00  per badge
The cost of the service will depend on three factors:
Service option (5, 10, or 15 business days)
Finish of badge (Standard Finish vs Deluxe Finish)
Time of year (Non-Peak vs. Peak Season*)
*Peak season is November 1st through January 31st, or anytime the factory is operating at above 95% capacity.
How do I request and/or purchase rush service?
Step 1: Design your badge(s) using Visualbadge. Once you reach the "Summary" tab, share the design with yourself using the button on the lower right of the badge preview.  See the image below. (Do this before contacting your dealer.)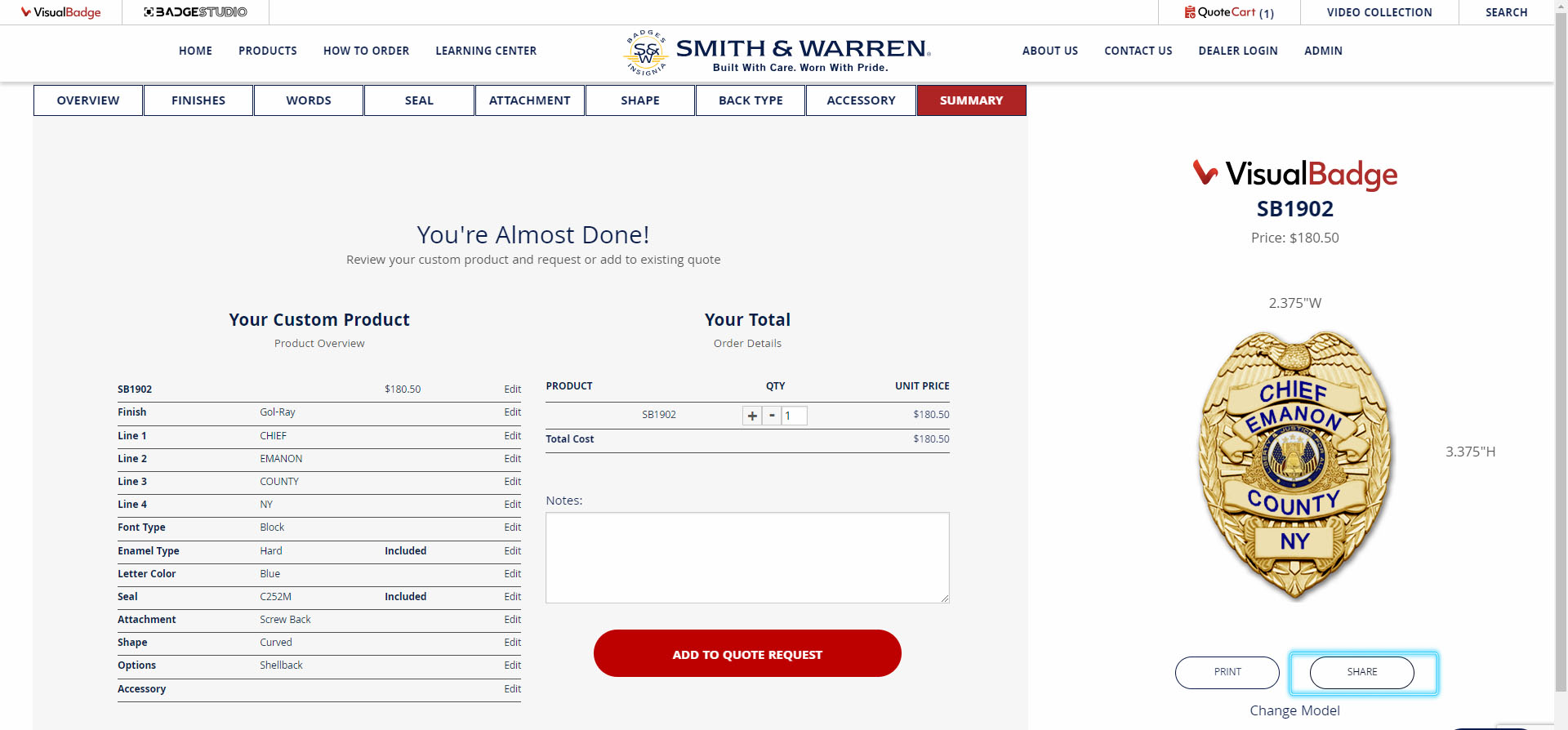 Step 2: Contact your Authorized Smith & Warren Dealer to request a rush service quote. (You are not able to request a rush quote on smithwarren.com)
 Provide your Dealer with the following:
Items that you would like to order.  (You should have these ready from Step 1)
Specific in-hand date.
Delivery/Shipping address
    
Step 3: Within a single day, your dealer will contact us to get a quote and authorization code. We are able to provide our dealers with the pricing and authorization within minutes of their phone call or email.  They will then get back in touch with you. The authorization code will be good for 24 hours / 1 business day.
Step 4: If the quote is accepted, then place the order with your dealer.   They will submit the order to the factory for processing.  If the code expires, please ask your dealer to request a new one.  The cost will probably not change, but the guaranteed ship date will move out accordingly based on the date the code is issued.
Standard shipping for rush orders is UPS Ground, but you can upgrade the shipping method if you like.  
Can I order multiple badges with rush service?
Yes, whether you need one or multiple badges rushed, we can accommodate your needs as long as the order is approved and a code is provided.   You can request rush service on any quantity of badges. 
Can I rush my collar insignia or nameplate order?
Yes, we do offer rush service on all our custom-made products.  
Are there ever times you do not accept rush orders?
Yes.  We do need to provide authorization for rush orders.  Reasons for a rush order request being denied typically would be if the parts needed to make the product are not immediately available.   
If you have any questions or concerns about our rush order program, do not hesitate to reach out to us or your authorized dealer, who will be more than happy to guide and assist you throughout the process. 
 
---
Recommended Topics in our Learning Center